Cub Scouts are a great group. I have the greatest respect for the Scouts of America and the history of the organization. So in February and March, I get the privilege of performing my scout-themed show for cub scout packs around Wisconsin and Northern Illinois.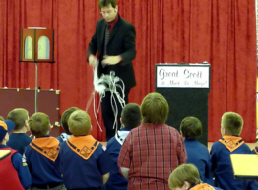 One thing I've found is that that most respectful scouts have the best pack leaders--every time. I've been to some great Cub Scout packs this year so far. The kids love to see magic. But the one comment I always seem to hear from the parents is "...and we enjoyed it to!" That's good, because there are often more parents than kids at some of these events. So my show is designed to entertain the whole family--but the scouts always want to sit at the front.--and sometime try to peak behind the curtain. But that's the nature of youth - always trying to learn--especially if its supposed to be a secret!
This past week I received a wonderful note from a pack who enjoyed one of my Scout shows.
"Thank you very much for the Great Scott show! A couple of my kids were still talking about it this morning when we were getting ready for the day, and last night I heard several kids and parents reminiscing and laughing about different pieces they really enjoyed as they were heading out.
I appreciate you putting in the effort and fun into such a nice show for the boys. I think it really means a lot as they celebrate what they have worked on this year. . .
Thank you again! I look forward to seeing more of your performances in the future."
--Marie Hagerstrand
Thanks Marie for the note. And thanks everyone for reading this post. Until next time.